Graduate Students Collaborative Work Rooms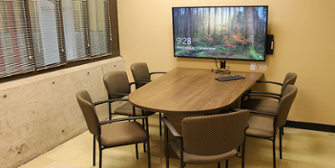 Three collaborative work/study rooms are available for use by Social Science Graduate Students, in SSC 4095, 4096 and 4097.
Collaborative rooms can be booked by graduate students enrolled in FSS graduate programs (course and thesis-based). Rooms are available 24/7.
The Faculty of Social Science Graduate Student collaborative meeting spaces are ideal for study groups preparing group presentations, assignments, and reciting presentations. All areas are AODA compliant. Each room is equipped with whiteboard, LCD screen and a computer which is connected to the SSC Network. Graduate students are able to connect their own laptop with available cables.

Please note, the rooms are only for Social Science graduate students.
---

For the booking details: http://calendar.lib.uwo.ca/reserve/socialsciencegraduate
Social Science: Terms & Conditions
A collaborative/study room can be booked by Western's students enrolled in the Faculty of Social Science. Each room can only be booked for a maximum two-hour time slot per day per group and a maximum of two weeks in advance.
Terms of use are:
Conversation volume only - no excessive noise
Only lidded drinks allowed - no food - no drinks if there are multiple students in the room
Keep it clean - remove all garbage after use
The person booking the room is responsible for any damages or stolen items
Social Science is not responsible for items left in the room
Rooms not claimed within 10 minutes of the booked time become available