IN PROFILE

Winner of a National Bank Women in Financial Markets Scholarship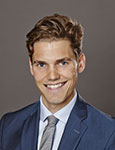 Winner of The Montreal Exchange Canadian Derivatives Exchange Scholarship

El-Baba started a non-profit to de-stigmatize addiction and mental health issues in the Middle East and Africa.
NEWS AND UPDATES
An unprecedented exploration of historical climate data strongly indicates increasing levels of greenhouse gases have the potential to lock California into drought conditions for centuries to come, according to research by Katrina Moser and partners.

Western Social Science was well represented in the 2016 Undergraduate Awards, with three papers recognized as regional winners.

The Faculty of Social Science welcomed the Honourable Kirsty Duncan, Minister of Science to announce the reinstatement of the Full-time University and College Academic Staff System (FT-UCASS) survey.
More News and Updates