Isaac Luginaah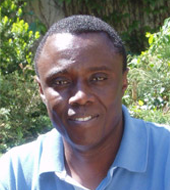 Canada Research Chair in Health Geography
Tier 2 -  March 2003, Renewed April 2012 - April 2017
Social Sciences and Humanities

Office: SSC 1409
Phone: 519 661-2111 ext.86944
E-mail: isaac.luginaah@uwo.ca 
Website

The Landscape of Disease
The entire health landscape is changing. As our health is increasingly at risk from both indoor and outdoor pollution, we find ourselves also at risk from emerging epidemics and pandemics. Health geographers and policy makers are facing unfamiliarly broad social and ecological challenges. We are not only asking how the environment affects health, but how specific places affect us.
As Canada Research Chair in Health Geography, Dr. Isaac Luginaah is identifying, quantifying and reducing the health risks from environmental, social, behavioural and often location-specific determinants. For some of society's most vulnerable groups, for example, health inequalities go hand in hand with social and environmental inequalities. Likewise, when we look at pandemics, we find that the poor are most at risk. They are most vulnerable to both major environmental hazards and deficiencies in the provision of health services.
Luginaah is working specifically on the health effects of environmental exposure at the community level, particularly among the chronically ill and most vulnerable, such as children, the elderly and the poor. In his work on disease epidemics, meanwhile, he examines the links between environment, migration and household food security in Ghana and Tanzania, which is coping with a HIV/AIDS pandemic.
His team will work closely with policymakers and health service providers to create a better understanding of how to improve the health of populations in Canada and internationally. This work will help prevent HIV/AIDS and contribute to care policy in African communities.