Archaeology field school teaches students the art of not digging
Archaeology field school teaches students the art of not digging
May 26, 2016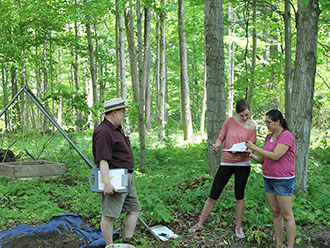 You could call it a non-field school. This spring, students in Anthropology 3396A - Site Management and Service are taking a different approach to standard archaeology, learning how not to dig up a site.
The course focuses on non-invasive techniques, and how to restore a site explored by many previous archaeologists and anthropology students. The Lawson site, located at the Museum of Ontario Archaeology, is a Late Woodland Site and was inhabited around 1500 AD by ancestors of Iroquoian speaking peoples. Up to 1,000 people may have lived in the village at a time and there were upwards of 30 long-house structures in the village.
Neal Ferris is the professor teaching the course. He explained that while the site has not been developed or plowed for cultivation, it has been used for field schools and archaeology for more than a century, so students are also able to see the approaches previous researchers have used, making it a course on the "archaeology of archaeology."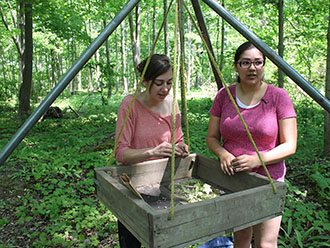 Most archaeology is conducted by digging, as most sites are in new developments. The practice is evolving, and with more input and collaboration with First Nations communities, there is a "sea-change in terms of sensibilities archaeologists have and how they have worked for over a century in Ontario," said Ferris.
Students in the course are involved in rehabilitating a site, including cleaning up old areas that have been excavated and making them pristine again. Students are also learning techniques using advanced technology, such as geophysical profiling, to investigate sites without needing to dig.
"These will be a skill-set these students will increasingly need in the future," said Ferris.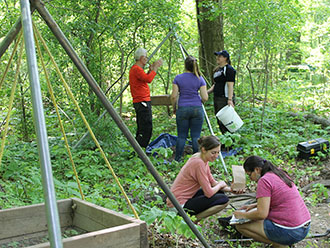 "I think it's really interesting from an Indigenous perspective," said Shauna Kechego-Nichols, a fourth-year Anthropology student, who is also a member of the Chippewa of the Thames First Nation.
Kechego-Nichols said she wanted to get an education that would benefit her community. "Not many First Nations people are involved in Archaeology or Anthropology," she said. "I enjoy the fact I have a role in restoring a site. Historically, bones and artifacts of my people have been dug up without consultation. I appreciate that the museum and the institution work hand-in-hand with communities."
Nadine Finlay is a fourth-year Anthropology/English student. She enjoyed the hands-on learning aspect, but also liked "how we are doing something for the community. Instead of just repeating learning, I like how we are working to restore a cultural-heritage site."
Along with new techniques, the course is also focused on changing the way students think about or talk about archaeology and anthropology, seeing it more as a service, rather than research, said Ferris. "Archaeology is of value to other groups, or they are required to deal with. It's important to think about archaeology not just as a play thing of archaeologists, but also as part of a heritage that other groups deal with."