A tradition of excellence, a future of success – Western Economics celebrates its 50th anniversary
A tradition of excellence, a future of success – Western Economics celebrates its 50th anniversary
September 05, 2016
The Department of Economics is celebrating its 50th anniversary during the 2016/17 academic year. During those 50 years, the Department has had a strong international reputation of academic excellence, a path it continues on to this day.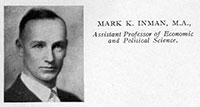 Even before the Department was formed, economics had a presence at Western. The first economist at the university, Louis Wood, was hired in 1913. The subject was taught as part of Political Science, and then Political Economy. In the late 1950s, Grant Reuber and Ron Wonnacott were recruited as new faculty members by Mark Inman, Head of Economics and Political Science.
Reuber and Wonnacott were both Western alumni who had gone on to earn their doctorates at Harvard.
When Grant Reuber became the Head of Economics and Sociology in 1963, he began to build up the faculty capacity in sociology and economics.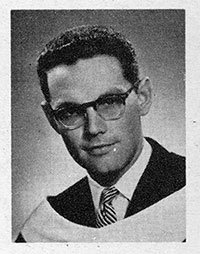 Reuber "set about building a great department through his insight and ability," said Wonnacott. Areas that were built up rapidly included macroeconomics and international economics.
Wonnacott also played a significant role in the Department's development, serving as Chair of the Department for three years, and guiding in the recruitment of many faculty members.
Under the next Chair, Clark Leith, significant hiring decisions were made which would help set the stage for future success. Reuber had moved on to the position as Dean of the Faculty of Social Science, but still played a role in helping to identify potential new senior hires.
"Grant was Dean and he was ready to make sure money was well spent," said Leith.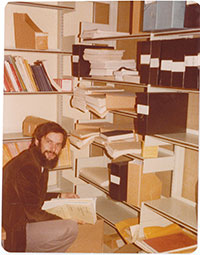 Along with bringing in faculty members, Reuber worked to bring in distinguished visitors. This helped the Department create international connections and raise the profile of the faculty. The Department also made connections with 
universities in other countries, helping to recruit international graduate students.
"We had major international connections with leaders of our field," said Leith.
Those connections, in part, led to the hiring of three economists from England: David Laidler, Michael Parkin, and John Whalley.
David Laidler was teaching at the University of Manchester. He was approached by Reuber and Leith and joined the developing department. "Western offered opportunities to do good work," said Laidler. "It was a rising Canadian department at the time, full of really good young people. It had resources to support research and was well led."
"Western was building its economics department. Clark (Leith) and Grant (Reuber) put together an attractive package. It was too good to say no to," said Parkin. "It was a very strong department. It had room to grow and did indeed grow over the next few years."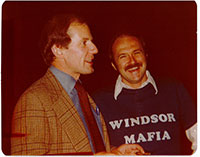 Before coming to Western, Whalley was a faculty member at the London School of Economics (LSE). Whalley had previously been taught by Laidler and Parkin at Essex, and this contact helped bring him to Canada. He came to Western on a two year leave from LSE, and at the end of the two years decided to stay at Western.
"Things were really beginning to move in Western in those days," said Whalley. "Clark Leith was very concerned with improving the quality of hiring, and that improvement was noticeable within a few years."
Once at Western, faculty members had to show their value. "There was basically no doubt about it that if you didn't publish in a major journal during your probationary period, you were destined for elsewhere," said Leith.
As high-profile faculty members joined the Department, other faculty members and high-quality students were attracted to Western. "It was a young department with lots of energy and was really building," said Whalley. "The growth that occurred in the 1960s and 70s was quite rapid and remarkable."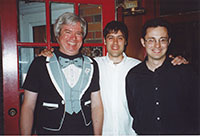 As the next Chair, Jim Melvin "did a superb job hiring young people and creating a strong young faculty with some growth," said Parkin. "Student numbers were growing, undergraduate numbers were growing and by the mid-80s we had a very strong and quite a large department."
"Jim was very dedicated to the job and had a very important role in building up the Department," said Jim Davies, chair of the Department from 1992 to 2001.
Chris Robinson, Ignatius Horstman, Al Slivinski, Glenn MacDonald, Jeremy Greenwood, Peter Howitt, Preston McAfee, John McMillan and Arthur Robson were among the promising young scholars hired in the late 1970s and 1980s who have gone on to become leading senior members of the discipline.
"I've heard people say that the Department is an incubator. People come because they've heard it's a great place," said Davies. "Many start a career here and move on to good opportunities elsewhere. Others stay, which is great too."
"Economics has always had good hires; some people left, but a few key people stayed and made a career here, giving the foundation to a great department," said Audra Bowlus, current Chair of the Department.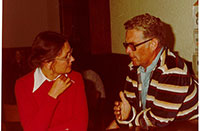 Through the late 1970s to the early 1990s, the research output of the department was at a peak. Wonnacott was involved in the free trade debate. John Whalley, David Burgess (chair after Parkin) and Jim Markusen were also focused on international trade. Leith was focused on development issues. Laidler and Parkin gave the senior lead on inflation and central banking, joined by younger faculty such as Greenwood and Howitt.
Many notable alumni moved through the department, including Munir Sheikh, Bob Hamilton, Paul Boothe and Paul Jenkins who would go on to senior positions in the Canadian public service. Quite a few went on to work in central banks, including at the Bank of Canada Paul Jenkins, Tiff Macklem and Stephen Poloz, now Governor, and Glenn Stevens, former Governor of the Reserve Bank of Australia.
By the mid-1980s the Department of Economics was number one in Canada and among the top 20 departments in the world, with strengths in Macroeconomics, Monetary Economics and International Economics.
A group focused on micro-economic theory rose in the 1980s and early 1990s, including Al Slivinski, Arthur Robson, Daniel Vincent, Bart Lipman and Uzi Segal. While most of these members would eventually move on to other schools, the focus has been maintained and the Department still has a strong theory group, although mostly with a younger face.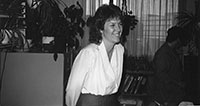 In the mid-1990s, facing cutbacks due to reduced provincial funding, the Department began to lose faculty members who were receiving very attractive offers from universities in the United States.
"The budget pressures were quite severe. There was a huge exodus of talented people getting offers from American schools, we were unable to hold them," said Parkin. "That was disappointing but inevitable, in the political and economic environment we were in the 90s."
While provincial funding declined, the University was successful in getting more support from the private sector to support the Department of Economics, including money to establish the Centre for Human Capital and Productivity and the Economics Policy Research Institute. Alumnus Glenn Campbell also provided strong support, funding the Campbell-Inman scholarships and the Glenn Campbell Faculty Fellowship.
By the late 2000s, the Department had dropped out of the top 5 in Canada due to significant departures.
"The Department had a tough time in the late 90s and 2000s, but it emerged from them, and is on a path to success," said Parkin, "I think the Department is pretty strong today. I don't think it's as uniformly strong as it was at its peak, but there's been a lot of good work done creating an outstanding department."
Parkin credits much of the renewed strength of the Department to the leadership of Audra Bowlus, "Audra is inspirational, I think she is a wonderful chair," he said. "I picked her out to be a wonderful chair the first time I met her."
Bowlus credits much of the current success to renewed investments in the Department by the Senior Administration at Western and a policy that has enabled the Department to hire at the mid-career level. These investments have returned the Department to a spot in the Top 3 in Canada and have supported its goal to be a Top 30 economics department in the world.
"The Department has always held on to its principles of hiring quality faculty and producing talented students. That is what we intend to do for the next 50 years," says Bowlus.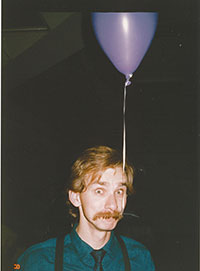 Through the 2016-2017 academic year, Western Economics will recognize its 50th Anniversary. 
Festivities will kick off on October 28 and 29 with an Anniversary Celebration. This will include a conference on October 28 where nine alumni will present their research and 30 others will participate in a poster session.
In addition, on Friday, October 28, David Laidler and Michael Parkin will receive honorary degrees, as part of Western University's 308th Convocation.  The Celebration will continue on Saturday, October 29 with a slate of former faculty returning to speak and a panel of alumni who will discuss "Lessons Learned from the 2008 Financial Crisis."
The Celebration will conclude on the 29th with a Gala Dinner at which Professor Jim MacGee will have an arm chair discussion with Doug Porter, Chief Economist at BMO, and David Andolfatto, Vice-President at the Federal Reserve Bank of St. Louis, on the economic impact of global events, such as Brexit and the pending US election.
 Finally, the Department will recognize those individuals who were instrumental in building the Department of Economics of today with speeches from founding Chair Grant Reuber, former Chair and Provost Clark Leith, and current Chair Audra Bowlus.