Mummies, money and medieval beads: high tech scanning in archaeology
Mummies, money and medieval beads: high tech scanning in archaeology
November 09, 2016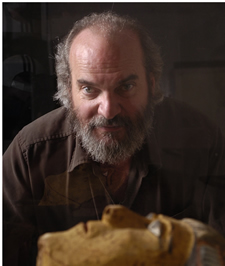 What do mummies, money and medieval prayer beads have in common?
Looking at these artifacts can "shed light on the person who made the artifact by showing how the artifact is made," said Andrew Nelson, professor in the Department of Anthropology. And by entering the "mind of the maker", Nelson said, "we are breathing new life into the understanding of history."
Nelson will explore these ideas and some artifacts during a mini-lecture on Fall Preview Day.
Nelson specializes in non-invasive CT and microCT scans of objects, bones and mummies. For example, he has worked with the Art Gallery of Ontario to analyze medieval prayer beads. His lecture builds on that work, and expands into other areas of research to highlight how archaeologists look at artifacts with non-destructive imaging.
Nelson's lecture features many images and visual examples of the objects he studies. Nelson utilizes a Micro-CT scanner at Western University's Sustainable Archeology to study objects, a tool he is says is rare for archaeologists to have access to.
Nelson said that when it comes to Anthropology "most people don't really know what it is. They think Indiana Jones, or think it's about dinosaurs," said Nelson.
Anthropology and archeology are interested in understanding the manufacture of artifacts, and consider the methods, as well as cultural significance of these objects.
Many students decide to study anthropology because they are fascinated by other cultures. Archaeology in particular, said Nelson, "gives us a better understanding of the past and that we are products of the past."
"We live in a multi-cultural world, and studying Anthropology is as way to really understand that and get skills to move in that world," said Nelson.
Nelson's Fall Preview Day mini-lecture will be on Sunday November 13. The lecture will be at 11:45 am in Room 2050, Social Science Centre.