Western Professor Jason Gilliland Speaks at Parliament Hill
Western Professor Jason Gilliland Speaks at Parliament Hill
May 19, 2016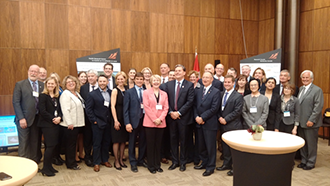 Western Geography Professor and Human Environments Analysis Lab (HEAL) Director Jason Gilliland was at Parliament Hill in Ottawa on May 9 to speak to federal MPs, Senators, and numerous representatives of various NGOs at an event entitled "Pediatric Research and Child Health in Canada".
Gilliland's research is focused on the dynamics of environmental and social change from the scale of entire cities down to the level of individual buildings and their inhabitants. His ongoing research involves various aspects of urban planning and development, urban design, housing, transportation, children's environments, and public health in Canadian cities.
Gilliland was invited to speak to Parliamentarians about his research on the built environment and children's health, with particular emphasis on how the environment matters for healthy active living and childhood obesity. The event was organized by Research Canada, with the support of Parliamentary Health Research Caucus Chair, MP John Oliver, Past Chair Senator Kelvin K. Ogilvie, and NDP Representative Carol Hughes. 
HEAL, based in the Faculty of Social Science, is an inter-disciplinary research and training environment specializing in research and evidence to support effective policies, programs and professional practice aimed at creating healthy and vibrant communities.