Reuber planted the seeds of success for Economics and Sociology
Reuber planted the seeds of success for Economics and Sociology
September 05, 2016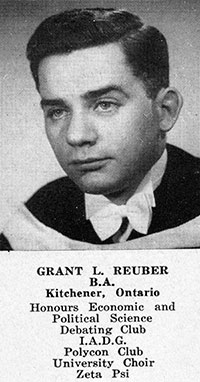 The Departments of Economics and Sociology are each celebrating their 50th anniversary this year. The separate development of these departments owe much to the focus and work of Grant Reuber.
The study of Economics and Sociology at Western have a long history. The first economists joined the Faculty at the then University of Western Ontario in 1913. The first sociologists joined the department in the 1940s. The disciplines were housed under departments with various names.
Mark Inman, head of the Economics and Political Science from 1939 to 1962, hired Grant Reuber and Ron Wonnacott in the late 1950s. Reuber and Wonnacott were both Western alumni who went on to study at Economics at Harvard.
In 1962, Reuber took on the role of Head of Economics and Sociology.
While the mix of sociology and economics may seem strange now, "these were all social science departments, it was not an unusual mix," said Reuber. "But as you had more people with more disciplines a more specialized focus developed, with concentration in areas."
Reuber began to recruit to build the capacity of the Department, building on the existing strength. "The Economics Department was always seen as having more people," said Reuber. "It was part of the development of the institution. There were many students that studied economics that went on to business school."
Reuber's plan was to develop each area with a particular strength and focus, and with that in mind, focused on recruiting demographers and macro-economics.
Reuber focused on demography for its connection to economics: "Demography is very much a part of economics, and many economics trends are affected by demographics" he said. "But it's not a central feature for most economics departments."
As the capacity developed, the idea of separate departments gained strength as a "natural evolution."
"We weren't casting off people, as they themselves preferred to be on their own and I agreed," said Reuber. "It (sociology) is a separate intellectual discipline and they wanted to do their own thing, and that's fine. There was enough people with capability and training. There was no problem with separation."
"Other groups were quite happy to be more independent of conomics; it wasn't their subject particularly," said Reuber. "Economics didn't want to interfere with political science, demographic studies or other aspects of sociology."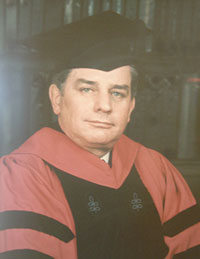 After serving as Chairman of Economics, Reuber was Dean of the Faculty of Social Science (1969-75) and later Vice President Academic of the University.
In these roles, Reuber remained involved and watched as the departments expanded. "The departments grew quite a lot, because the university grew, all the major disciplines got substantially larger," he said. Through targeted hiring and support of students and faculty, the reputation of the departments improved. Both departments would come to be recognized as among the best in the world.
"As Dean he (Rebuer) was ready to make sure money was available to do thing that made the department attractive," said Clark Leith, Chair of the Department of Economics from 1972-76.
"The growth that occurred in 1960s and 70s was quite rapid and remarkable" said John Whalley, a professor in the Department of Economics said. "Much of the credit in building the Department goes to Grant Reuber."
Speaking on his time as Dean, Reuber said the "biggest part of my job was trying to recruit the best faculty I could find. I spent a lot of time chasing around good students at Harvard, Princeton, Chicago and so forth, and Canadian universities; when we got them would try to fit them in and get the most of their talents."
"We tried to focus on a few areas that we did quite well. We also tended to pay attention to whether people were actually writing articles and doing work of academic value or weren't and what their success was to improve their skills and qualifications over time," said Reuber. "That didn't just happen, that happened because people in the department bought into that model."
Reuber will be speaking during a Gala Dinner as part of the Department of Economics' 50th anniversary celebrations on October 29.