Western University approves Centre for Urban Policy and Local Governance
Western University approves Centre for Urban Policy and Local Governance
October 25, 2016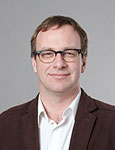 Western University has approved a new research centre in the Faculty of Social Science.
The Centre for Urban Policy and Local Governance will bring together faculty and researchers who conduct local and urban research with a focus on policy implications.
"Western has had extraordinary strength in local government, multi-level governance, and urban research, largely – but not exclusively – centred in two departments: Geography and Political Science," said Martin Horak, Associate Professor in Political Science and Director of the Local Government Program. Horak is a principal member of the Centre.
"The Centre will create a unified venue for intersecting across departments, since work in this area is often interdisciplinary in nature," said Horak.
There are currently 19 faculty members signed up as prospective Faculty Associates with representation from across the university, with the expectation others will express interest.
Once established, Horak expects the Centre will provide a platform for people to engage in national policy debates. He would like to see the Centre became a significant player in Canadian debate on place-based policy.
"There are a number of centres in Canada focusing on particular local and urban issues, but none that focus squarely on how our cities and communities are governed, and this will be the niche of the Centre," said Horak.
Faculty members requesting more information can contact Martin Horak.