Internationally renowned Social Science alumni receives honorary doctorate
Internationally renowned Social Science alumni receives honorary doctorate
May 25, 2016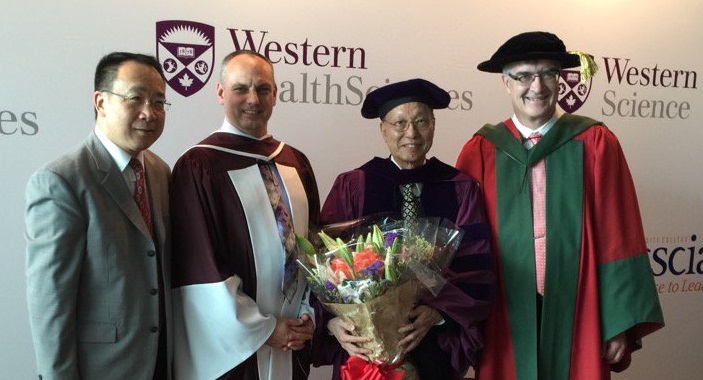 From left, David Chen, former Chair of the Department of Geography and Resource Management at the Chinese University of Hong Kong, Robert Andersen, Dean of the Faculty of Social Science at Western University, Yue-Man Yeung, Honorary Doctorate Recipient, and Dan Shrubsole, Chair of the Department of Geography, Western University. 
Yue-Man Yeung completed his MA at Western University in 1966. He continued his studies and received his PhD from the University of Chicago in 1972.
Since then, Yeung has established himself as a world-class authority in the areas of urban housing, globalization, the modernization of China and Pacific-Asia and Third World Development.
Along with his research, Yeung has been involved with many boards and committees of the Hong Kong government. He worked for almost a decade for Canada's International Research Centre (IDRC) based in Singapore and Ottawa. Yeung has also been involved with international organizations, including as Director of Commonwealth Geographical Bureau, a Member of International Scientific Advisory Board under UNESCO, and Chairman of the Preparatory Committee for The Shaw Prize.
Yeung was recently recognized for his achievements, with an honorary degree of Doctor of Laws, at Western University's Hong Kong convocation ceremony.
"Long before internationalization was a major goal for Western University, Dr. Yue-man Yeung was forging the way for future international students at Western University," said Dan Shrubsole, Chair of the Department of Geography.  "In addition, his work since graduation has continued to be international in focus and has had major impact."
Speaking at the convocation ceremony, Yeung said "As graduates with your heart in global concerns and trends, you should pay particular attention to rapidly changing issues at local, regional and global levels."
Reflecting on his education at Western, Yeung said "I would also like to thank my alma mater Western...for recognizing my career and for the education I received to be a truly global citizen and to devote my work that covered many countries in the world. I am glad to say that our graduands today are similarly well prepared."