Chantelle Richmond featured in Maclean's Magazine
Chantelle Richmond featured in Maclean's Magazine
November 03, 2016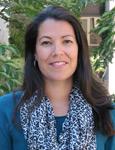 Chantelle Richmond, professor in the Department of Geography, has been featured in Maclean's Magazine for her research in the field of health geography, in particular the connection with Indigenous peoples.
From the article: "While you can find health geography in most universities, subdivisions, such as Indigenous health geography, aren't common. Richmond is part of a small group of researchers specializing in that area. Her work explores how environmental and political events have dislocated Indigenous people from their traditional territories—for instance, through water contamination or construction of a pipeline."
The article recounts the personal connection Richmond has to the field of research.
From the article: "As an Indigenous person, I was intimately familiar with environmental contamination because of my own community's experience," she says. "But this was something Canadians were only just beginning to talk about and realize the terrible injustice."
Richmond also reflects on how the study of Geography has changed to incorporate different viewpoints. 
From the article: "Richmond takes pride in the work she's doing and sees potential for great impact. "It's fascinating because geography was previously a very colonial discipline, naming places and drawing maps," she says. "Now Indigenous geography is really about reclaiming and making our own maps."