Craig Logan, winner of The Montreal Exchange Canadian Derivatives Exchange Scholarship
Craig Logan, winner of The Montreal Exchange Canadian Derivatives Exchange Scholarship
September 06, 2016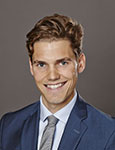 Craig Logan is a student in the Master of Financial Economics (MFE) program, with plans to graduate in December 2016. He received The Montreal Exchange Canadian Derivatives Exchange Scholarship.  The scholarship is a $10,000 research grant for a master's student pursing research on derivatives.
In the summer of 2016, Logan completed an internship with the Bank of Canada, where he worked in the financial markets division as part of a market structure and regulation team. Logan and the team researched the effect of market maker inventories on options markets. A market maker is a trading firm that assumes the risk of holding a certain number of securities in order to facilitate trading.
While a reasonable amount of research had been completed on market makers in equity markets, the effect on options markets had not been explored. While research has found that the affect is strong in equity markets, it is not as prominent in options markets.
Logan said that more research needs to be done in this area, with more complex data to better understand the effect on different dimensions of the options market. It is this research that he will be pursing as part of the scholarship.
Logan completed his undergraduate degree at the University of Victoria. With an interest in finance, he felt he needed to be closer to Toronto to advance his career. He was also looking for a program that was quantitative and had an economics background, but was focused on finance.
"The MFE program was perfect for that," he said. "I didn't really know what to expect; it's not like a traditional MA program in economics, because it's more applied and specialized in finance, which is a big deal."
"I really like the applied aspect of the program, and the career opportunities it has opened up," said Logan.
Upon graduation, Logan would like to return to the Bank of Canada, but he is keeping his options open and will be applying to private sector jobs as well.