World-renowned political scientist Janice Stein presented with honorary doctorate
World-renowned political scientist Janice Stein presented with honorary doctorate
May 25, 2016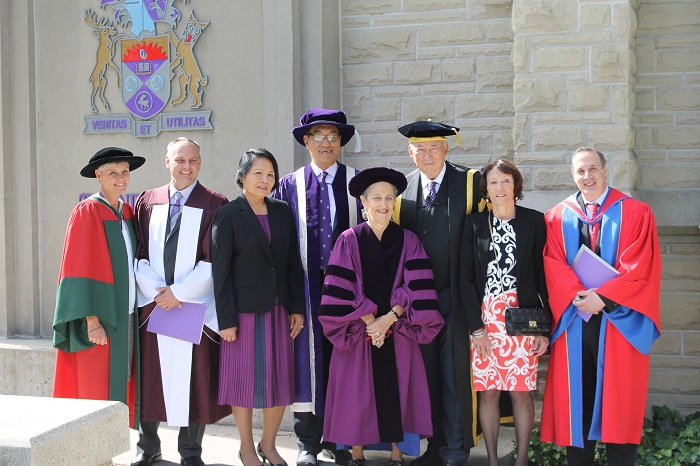 From left, Janice Deakin, Provost & Vice-President (Academic), Western University; Robert Andersen, Dean, Faculty of Social Science; Meena Chakma; Amit Chakma, President, Western University; Janice Stein, Honorary Doctorare Recipient; Jack Cowin, Chancellor, Western University; Sharon Cowin; Don Abelson, Chair, Department of Political Science.
Janice Stein, a world-renowned political scientist and international relations expert, is the Belzberg Professor of Conflict Management in the Department of Political Science and was the founding Director of the Munk School of Global Affairs at the University of Toronto. She is a Fellow of the Royal Society of Canada, a member of the Order of Canada and the Order of Ontario. Stein has been selected to receive an honorary doctorate from the University of Western Ontario, as part of the Social Science convocation in June 2016.
"There are no words to capture how special this moment is," said Stein. "You have the opportunity to talk to graduates who are just starting out in their lives after spending time in a university discovering who they are, what they want, and developing the knowledge they will use as they try to navigate life, and give back to their communities and society."
And students trained in the social sciences are well positioned to have an impact on the world.
"Social sciences are absolutely essential – almost every problem we face today, global or national - is at the intersection of disciplines," said Stein.
The major problems of the world require engagement of science and humanities, and while science alone, and the STEM fields especially, are important in deepening knowledge "most enlightened scientists will tell you that without understanding of society, inequality, even the very best science will not reach its targets."
It is Stein's impact on the world the university is honouring with the doctorate. Honorary doctorates are awarded to recognize the accomplishments of a person, both in the academic arena and in broader society.
"It's a great honour to welcome Janice to the Western community," said Robert Andersen, Dean of the Faculty of Social Science. "There are very few social scientists in this country who are as accomplished as Janice. Not only is she a great academic, but her knowledge and research have greatly contributed to international relations on the world stage."
In his citation, Don Abelson, Chair of the Department of Political Science said "Despite the stature she enjoys throughout the international community, Dr. Stein has never lost sight of the importance of teaching and guiding future generations of students to think critically about the world around them, and to take chances."
"It is a signal honour to receive an honorary doctorate," said Stein. "I think most people who receive these types of degrees feel they don't deserve it as there are so many Canadians who contribute to society and our country. It is a very special moment when the President calls you and tells you that your peers have chosen to give you this special award."
Stein said she has had the privilege of addressing other convocations and reflected on the importance of the importance of the event for the graduates. "For students, this is really, for many, their first marker in adult life, so they remember their convocations, and remember the speaker, and occasionally remember what they said," said Stein. "It (the address) is a short eight minutes, but it's a very long eight minutes."
Read more about Stein's address.