History Professor helps tell the story of Dr. Oronhyatekha
History Professor helps tell the story of Dr. Oronhyatekha
December 05, 2016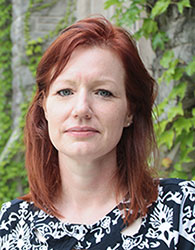 It's "a story that had to be told" and one that the authors hope will be an inspiration to many.

Michelle Hamilton, Associate Professor in the Department of History, worked with First Nations researcher, writer and educator Keith Jamieson to publish Dr. Oronhyatekha: Security, Justice and Equality.
Telling Dr. Oronhyatekha's story had been a goal of Jamieson's for two decades, and while Jamieson had been working on the book for several years, he reached out to Hamilton to help him complete the work. Hamilton built on Jamieson's work, focusing on online research, and looking through 1,000 articles for additional information. 
Born in 1841, Dr. Oronhyatekha was the founding leader of a major insurance company, a rifle champion and one of the first First Nations medical dcotors in Canada. Oronhyatekha was a Mohawk of the Six Nations near Brantford. While he faced hardships and adversity faced by First Nations in 19th-century Canada, Oronhyatekha became a doctor, practiced medicine and helped build the group that would become Foresters Financial, the first organization to offer life insurance to the average family.
From the London Free Press: ""I knew the story and felt it was a story that had to be told," said Hamilton. "It's just so fascinating. It was so hard for First Nations people to have success in those days because the deck was so stacked against them."
"He kept that part of his world close to his heart," said Jamieson, who hopes Oronhyatekha's story is an inspiration for First Nations people, especially children. "You don't have to be a Dr. Oronhyatekha. You don't have to achieve what he did. But you have to try your best, be the best that you can and don't dwell in all the negative, don't live there.
Read more from the London Free Press, the Brantford Expositor, and the Belleville Intelligencer.