The Sting of Rejection: Why Depressed Individuals Suffer More
The Sting of Rejection: Why Depressed Individuals Suffer More
April 05, 2017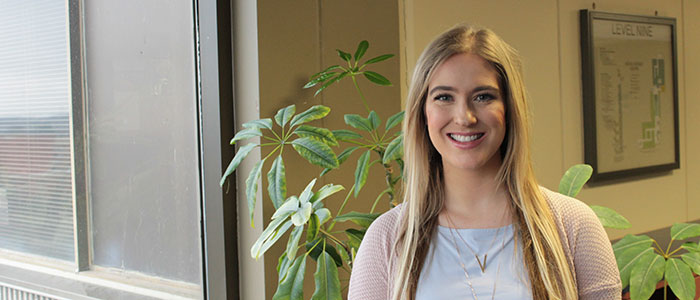 Why is social rejection the single type of life event most predictive of the onset of depression?
Katerina Rnic, a PhD student in Clinical Psychology, is asking this question, and conducting experiments to understand how depression-prone people respond to social rejection.
Rnic is presenting her thesis, entitled "The Sting of Rejection: Why Depressed Individuals Suffer More", as part of the university-wide Three Minute Thesis competition.
"Using an experimental manipulation of rejection in the lab, I found dysphoric individuals suffer for longer after being rejected due to these negative styles of thinking, which include thinking more about the rejection event, and negative memory and interpretation biases following rejection," said Rnic. "Negative cognitions likely send a message to the body that a catastrophe that is threatening to survival has occurred, which in turn triggers an inflammatory response in the body, as if rejection is a pathogen."
"I have always been interested in researching depression because of how common and debilitating the disorder it is," said Rnic. While at a conference, she was introduced to research on inflammatory processes in depression and how these can explain what our cognitive models cannot.
"I began to wonder if it was the negative interpretations, appraisals, and overthinking that we tend to see in depressed people that is causing their bodies to respond to social stressors as if they were in physical, not emotional, pain," Rnic said.
Rnic's future research will include a measure of the inflammation responses, to determine whether these responses are stronger or more prolonged in people with depression.
"One in five Canadians will experience a depressive episode in their lifetime, which not only has consequences for the individual's quality of life, but can have tragic outcomes such as suicide," said Rnic.
Rnic hopes a better understanding of the causes and responses to depression will help lead to better treatments. 
Rnic presented her thesis in the Social Science heat of the Three Minute Thesis, and was one of three competitors selected to advance to the university-wide competition at Western.
"I chose to compete because I wanted to challenge myself by getting well out my comfort zone and learning how to pitch my research to others outside of my field," she said. "With there still being so much stigma around mental health and depression, I believe that it is important for people to be reminded of how common these issues are, and that we are working on better understanding depression to ultimately improve our treatments."
The Three Minute Thesis (3MT) is a competition which takes place in the spring of every year at universities throughout the world. The idea started in Australia and has quickly spread to many other countries. The idea is simple, students who are completing their thesis research present a single slide and have three minutes to explain to a panel of judges how and why their research is exciting, important, and innovative. One slide, and three minutes exactly.