Bank of Canada presents inflation update at Western University
Bank of Canada presents inflation update at Western University
February 09, 2017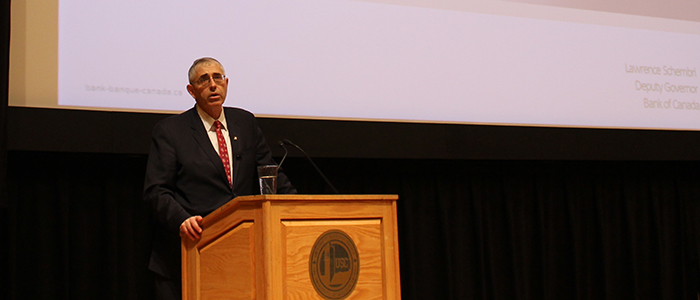 Lawrence Schembri, Deputy Governor of the Bank of Canada, discusses the new measures of core inflation, at Western University.
On Thursday, February 9th the Faculty of Social Science, the Department of Economics and Western Economics Society welcomed Lawrence Schembri, Deputy Governor of the Bank of Canada, to Western University.
Schembri presented a speech entitled "Getting to the Core of Inflation", and discussed the Bank of Canada's inflation update. His presentation detailed the changes the central bank has made in determining and measuring the rate of core inflation.
"In October, the Bank of Canada renewed its agreement on the inflation-control target with the federal government for the sixth time since 1991," Schembri said. "The target is a critical component of our monetary policy framework."
Over the past 50 years, the Department of Economics has established a strong international reputation in many areas of the discipline, and particularly in monetary economics and central banking.
Graduates from our Department have held key appointments in Central Banks around the world. Stephen Poloz is the current Governor of the Bank of Canada; Glenn Stevens recently retired as the Governor of the Reserve Bank of Australia. Paul Jenkins, Carolyn Wilkins, Timothy Lane, and Tiff Macklem, are all current or former deputy governors of the Bank of Canada.
Schembri noted that speaking at Western felt like he was "speaking on home turf", noting that four of his six colleagues on the governing council of the Bank of Canada are graduates from Western Economics.
 "In the 1980s, researchers in the department, provided advice on maintaining a core inflation rate," said Department Chair Audra Bowlus, "and it is good to see the impact of this research."
Reinforcing this tradition, the Department will fill the new Jarislowsky Chair in Central Banking this coming year.
In his speech, Schembri highlighted the importance of continued research. Schembri said the Western has a good reputation of research in monetary policy, and the Bank of Canada looks forward to working with the new Jarislowsky chair.
"Although we've had 25 years of success in hitting our target, we are anything but complacent," said Schembri. "We are committed to learning from experience and from academic research – including work conducted here at Western University – to continuously improve our monetary policy framework."
While the Bank of Canada has made announcements at university campuses in the past, it was not a recent practice. This presentation marked a return of the practice, and it was
webcast on the Bank of Canada website
. Following the speech, Schembri took questions from the audience.