DAN Department of Management & Organizational Studies renamed in honour of Aubrey Dan
DAN Department of Management & Organizational Studies renamed in honour of Aubrey Dan
June 22, 2017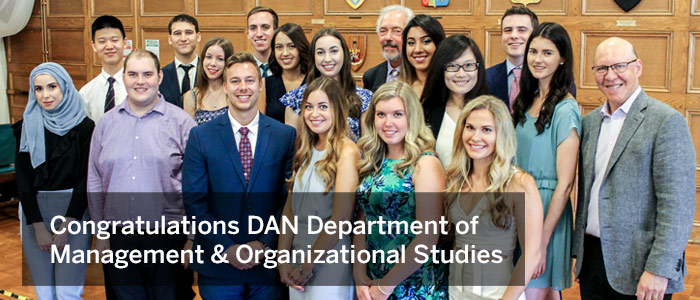 The Faculty of Social Science is proud to announce the newly renamed DAN Department of Management & Organizational Studies.
DAN Management provides a unique interdisciplinary approach to the study of management, emphasizing the social science and evidence-based foundations of management education.
The department is named in honour of Western Alumnus Aubrey Dan.
Dan, BACS'85, is a Tony Award-winning producer, President of the Dancap Group of Companies, including Dancap Global Assets Management and Dancap Private Equity Inc.
Dan attributes his success to his education at Western University. "I really enjoyed going to Western," said Dan. "I enjoy the fact that skills sets I learned then I still use on an everyday basis in business today. I took that learning experience and the education and have transformed it to every aspect of my life today."
"It's a privilege to have Aubrey's connection to the Department and the Faculty," said Robert Andersen, Dean of the Faculty of Social Science. "The renaming reflects the importance of his input and support."
In 2006, the Management and Organizational Studies program was renamed the Aubrey Dan Program in Management and Organizational Studies, in recognition of a $5-million gift from Dan. That gift continues to support faculty and students through endowments for professorships, faculty fellowships, a research fund and student awards.
In 2013, the Management and Organizational Studies program was named a department within the Faculty of Social Science. The revised name bring the previous recognition to the department level.
The change in name also reflects a connection Aubrey Dan feels with the department and the Faculty of Social Science.
"I was schooled in Faculty of Social Science, and the most relevant component in how to deal with people is people management," said Dan. "I run a family investment office, and when I make an investment, the number one criteria, I always look at who are the management and how are they trained. I see such incredible positive changes of being part of creating the future leaders of Canada and around the world."