Public History students contribute to unique Canada 150 project
Public History students contribute to unique Canada 150 project
February 08, 2017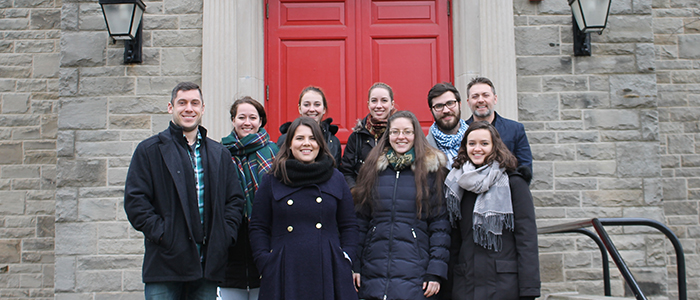 Back row (left to right): Thomas Van Dewark; Paige Linner; Kelsey Priestman; Mary Spinks, Kyle Lariviere; Professor Mike Dove
Front row (left to right): Jennifer Bate; Lilia Lockwood; Jessica Di Laurenzio Missing: Grace Evers
Students from Western's MA Public History Program have contributed to A Driving Force: Women of the London, Ontario, Visual Arts Community 1867-2017, a unique Canada 150 project, being developed as a multimedia website by McIntosh Gallery. The project explores the role of women in London and the south-western Ontario art community, but had a more concrete goal for the students in their introductory public history graduate course.
The students conducted oral history interviews with nine local women, and the project was intended to give students the specific training and transferable skills necessary for successfully putting history to work in today's world.
For most of the students, this was their first experience with interviewing someone about their role in history.
Paige Linner is a student in the Public History program. "It was a learning experience. I conducted the first interview and the team changed the approach after I went," she said.  "The project allowed me to learn a lot. The program is like a tool box, providing hands on skills, and a combination of graduate level skills and knowledge."
The students feel that 150th anniversary celebration is a great inspiration for exploring lesser known topics in history.
"I like that Driving Force showed a little known part of the London Community and used the 150th anniversary to bring that to light," said Linner. "The project is reflective of how Canada influences people's art."
The personal history represented by the project injects more empathy and understanding in into a field that is more distant and factual, said Linner.
"This project helps remind us that they were people and not that they were just part of history," said graduate student Grace Evers.
"The project", said graduate student Lilia Lockwood, "gives an opportunity to show some aspect of history that written history may not cover; it allows or encourages you to pay attention to accents and gestures, pauses."
Oral and social history often focuses on details of people's lives. "These details," she said, "make us relate to people and how they were living."
Staff at the McIntosh Galley will edit the interviews, and include them in the Driving Force exhibit, featuring individual pages outlining biographical information, specific contributions, professional accomplishments, and images.