A Noble gift in support of Public History
A Noble gift in support of Public History
April 11, 2018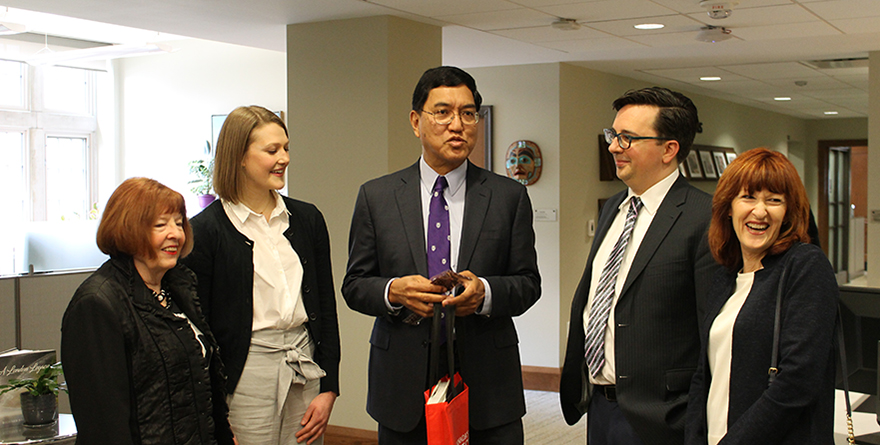 From left, Western Alumna Dororthy Hollingsworth, MA Public History student Brooke Campbell, Western University President Amit Chakma, Joel Ralph (MA'06), Director of Programs, Canada's National History Society and Janice Walker, President & CEO, Canada's National History Society.
Story and Photo by Rob Rombouts
Thanks to a gift from a Western alumna, and a bit of serendipity, students in Western's Masters in Public History program will have a funded internship opportunity with Canada's History Society.

The Nobleman Scholars program was created to provide internships at Canada's History for graduate students from Western University. The program was established in 2017 by Dorothy Hollingsworth, alumna of Western University, to honour her husband, William (Bill) Nobleman, founding director of Canada's National History Society (Canada's History), who passed away in 2016.

In Spring 2017, Hollingsworth received an invitation to an event hosted by the Society. She began to think about what she might do to honour Bill's memory and felt that whatever it was, it would be connected to the Society. "Bill was very interested in education, but was also very knowledgeable in History in general," said Hollingsworth.

Hollingsworth asked the Society what they may want support in.

The Society told her that, since 2006, they have endeavoured to host interns from Public History, as funding allowed. Support to continue that opportunity would be appreciated.

Joel Ralph was the first intern from the Western Public History program to work with the Society, in 2006. He is now Director of Programs for Canada's History.

"We've had four more Western Public History students since, and four of the five still work with the society," said Ralph. "We've had a great connection with the program."

"I thought it was great. It combined Bill's interests, combining education and his interest in history," said Hollingsworth. "I was so surprised that it was going to be a Western grad. It seemed very serendipitous."

"We are fortunate that Dorothy saw it as an opportunity to create a lasting legacy to recognize her husband's work with the society," said Ralph. "It is critical in giving a foundation to the internship. It's wonderful that we found a connection to Dorothy and Bill, and to Western."

Brooke Campbell will be the first Nobleman Scholar, working as a digital media intern with Canada's History.

"Western's program is very hands-on; everything had a community partner, so it's not just theoretical," said Campbell. This experience will serve her well in her internship. "One really unique aspect, as part of application, I proposed a project, a unique idea, and I get to do it. This is an industry where you have to be really creative."

"As the capstone of our MA program in public history, the internship is designed to bridge theory and practice," said Mike Dove, Assistant Professor and Internship Coordinator with the Public History program. "Students are sent out into the wider world to put their historical skills and passion for the past to work in ways that will help inform, influence and shape how the public thinks about and experiences history."

While students benefit, Ralph said the Society does as well. "We benefit a great deal, more than anything," said Ralph. "The public history program pulls together and graduates students that are ready to do a wide-variety of tasks with a wide-variety of skill sets."
"It's a great networking opportunity," said Campbell. "It's a great way to hone those skills and apply everything we've been working on for the past eight months. It will take all those skills and put them in a more professional experience."

"For us to be able to provide an internship year in, year out is tremendous," said Ralph. "The gift is a gift to both the society and to the Public History program at Western."

"This unique arrangement between the Nobleman Family, Canada's History Society and Western's MA Public History Program will prove invaluable in our shared efforts to promote Canadians understanding of their country- both past and present," said Dove.