The Lucky Bench
October 01, 2019

A Western professor has been honoured with the naming of a bench in Jasper National Park that provides a view of Angel Glacier and Mount Edith Cavell, where he has carried out research for over 50 years.
On Sunday, September 8, Parks Canada dedicated the bench and a plaque for Dr. Brian Luckman, Professor Emeritus in the Department of Geography, in recognition of his research within the National Park.
Labelled "The Lucky Bench", the plaque reads: "Recognizing the work of Dr. Brian Luckman. Since 1968 his research and interpretation of this environment have enriched our understanding of the Canadian Rockies."
Luckman has carried out research in the Rockies for over 50 years, conducting fieldwork in every field season since 1968, except for 1979. This work has contributed to the understanding of landscapes in the Park through studies of geomorphic processes (rock falls and snow avalanches), hydrology, glacier history, environmental change, tree-ring studies and climate reconstruction. Tree rings have been used to study the history of glacier and treeline fluctuations and to develop reconstructions of temperature and precipitation fluctuations in the Park
Luckman has published many papers about these topics for sites within the Parks and has worked with Parks staff to develop interpretive materials and displays for several sites. A major focus of his research has been dating changes of the Athabasca Glacier as well as reconstructing the climatic and environmental changes for the area around the Columbia Icefield over the last 1000 years. He has monitored changes in Angel and Cavell Glaciers at Mount Edith Cavell with repeat photography.
The location of the bench overlooking the two glaciers and small lake at Mount Edith Cavell is an appropriate and much appreciated recognition of his research at this site.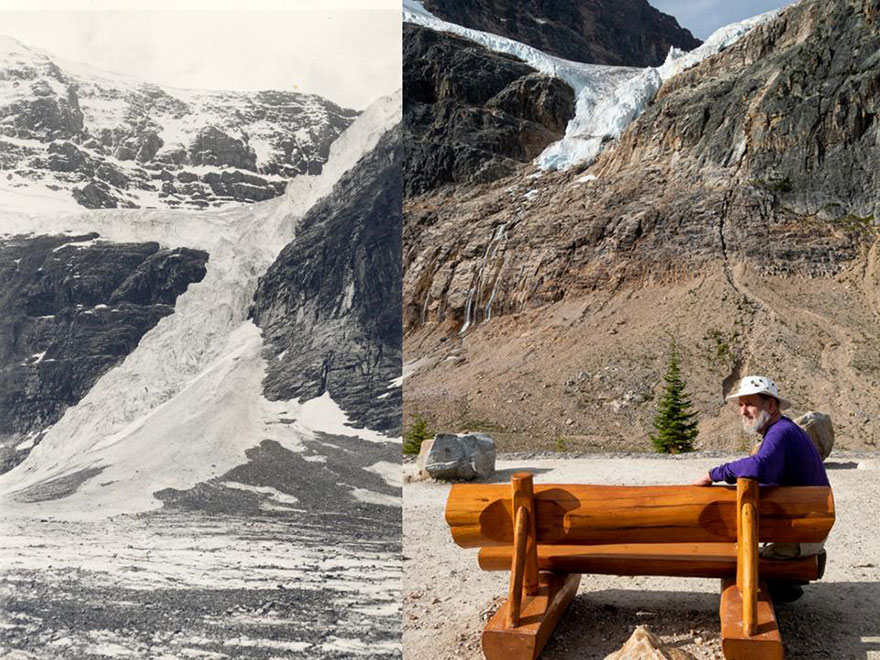 Angel Glacier in 1920s compared to the glacier in 2019