No universal stress response to COVID-19
No universal stress response to COVID-19
April 14, 2020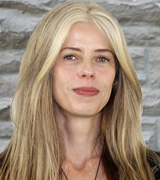 As the world responds to the COVID-19, many people are feeling more stress than they normally would. How deeply this affects them and how they respond to this stress will depend on many factors says Elizabeth Hayden, professor in the Department of Psychology. Hayden studies developmental psychopathology, the sub-discipline of psychology focused on how early development influences vulnerability to psychological problems. In the case of COVID-19, Hayden and other researchers in the field are interested in how stress sensitivity in youth determines variation in responses to this unusual historic event.
The global pandemic is unprecedented for most people and predicting how people will respond is difficult. "What makes it so interesting, other than the fundamental weirdness of empty streets and stores and the need to distance from others, is that it is a pretty unique event in terms of stressors," say Hayden. "It will be incredibly challenging for many people, and many families' day-to-day lives have already radically changed. For some people, the impact is still subtle and is going to be much more nuanced."
"Many people are still working full-time, from home, and in some cases these are people who regularly work from home anyhow. This is in most ways the ideal scenario," said Hayden, comparing people in this situation to those who have been laid off, or those who remain employed but are now in higher-risk situations such as working in grocery stores or health-care settings.
"For people who like to be at home, who are maybe on the introverted side, and for those who don't have financial challenges, this has not generally been bad so far," said Hayden. "For some people, the safety measures associated with COVID-19 may even have positive effects, such as more time at home or being better rested. However, whether these positive effects are maintained may become a question of how long this new reality lasts."
"Like all stressful life events, context is important to understanding how COVID-19 and its sequalae impact parents, their kids, and the family as a whole" said Hayden. "Right now, most people are experiencing negative emotions such as worry and sadness. These are normal, potentially adaptive emotional responses if they serve to increase healthy behaviours that prevent exposure, like social distancing."
Hayden emphasizes that negative emotions do not mean that someone needs treatment per se. "Certainly, COVID-19, like other stressors, increases the likelihood of experiencing psychological problems like depression and anxiety. However, unless you have a history of major depression or anxiety—either personal or in the family—simply being sad or scared doesn't mean you require professional attention. "I've heard it said that there will be an epidemic of depression and anxiety. That is an over-simplification," said Hayden. "When traumatic things happen, most people feel anxious or upset, but people are resilient. There is a risk of pathologizing normal human responses."
Hayden says it is important for parents in particular to understand that kids may be more scared or more anxious than they normally may be, and that this is to be expected. In most cases, there will be tremendous mental health value associated with activities that do not require help from a professional. Use strategies such as getting out in the sun when it is safe to do so, keeping physically active, developing a daily schedule to fill the structural void left by workplace and school closures, maintaining a regular sleep rhythm, and reaching out to friends using technology to maintain social connections.
This is not to say that some people may need more intensive help. Parents should consult with their family doctor or paediatrician if a child is persistently distressed or otherwise shows a marked, troublesome change in typical behaviour.
In the long term, Hayden and other scientists who use longitudinal studies may be well-positioned to understand the impact of COVID-19 on stress responses. While many research programs at Western and elsewhere have been put on hold, Hayden points out that there are currently many ongoing longitudinal studies which involve cohorts of families and children. Through these studies, baseline measures of child and family functioning have already been established.
"For example, we are following a large group of families in the London area, and we have a pretty good understanding of how children were doing prior to the COVID-19 pandemic," said Hayden.
Continued data collection from these families will be useful as the pandemic unfolds, to develop an understanding of what the main predictors will be of how kids adjust to the situation. Hayden is also interested in seeing long-term consequences including when things begin to normalize, pointing to children who experience separation anxiety, and adults who experience social anxiety.
"Getting back into a normal routine will be quite challenging for some people, once safety no longer necessitates relatively extreme social distancing measures" said Hayden. "There's a large literature indicating that returning to school after summer breaks and illness can be quite hard for children with anxiety. What this means is that there will be the potential for additional adjustment problems even when life gets back to what we think of as normal."
For those seeking help in dealing with the psychological impact of COVID-19 on themselves or others, Hayden recommends the following evidence-based websites, which provide more information on no-cost to low-cost resources: