In Memoriam - Sasha Doxtator
In Memoriam - Sasha Doxtator
July 26, 2021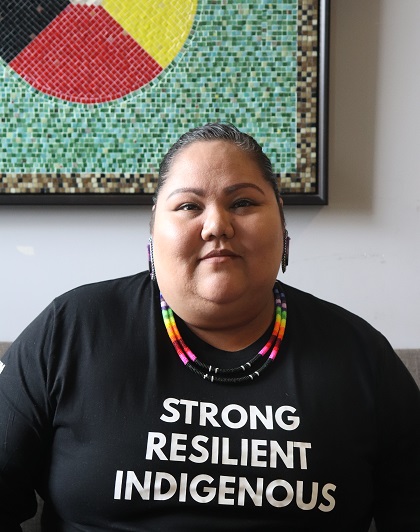 The Western community is mourning the passing of Sasha Doxtator, a recent graduate of the Indigenous Studies program in the Faculty of Social Science, and an incoming student in the Master of Professional Education (MPEd) program in the Faculty of Education. She passed away on Sunday, July 18, 2021, and will be missed by all those who knew her at Western. 

As a student, Sasha was dedicated to bringing Indigenous knowledge to the university, an institution which she felt did not place enough value on Indigenous ways of knowing and learning.

"She came to this place with such holistic knowledge of her Oneida culture and language, that she challenged the spaces she entered in humility and love enabling great learning for herself, her peers and certainly faculty and staff," said Amanda Myers, Director of the Indigenous Student Centre. "She walked her path in a way that all honoured all those ones that came before us and she came to love this place."
Sasha was an advocate for bringing Indigenous knowledge to academic disciplines. In 2019, she helped Robert Cockcroft develop a course, Two-Eyed Seeing and Astronomy, which presented the principles of astronomy, through traditional Indigenous sky stories.  

"Sasha was truly inspirational and I can honestly say that the Indigenous astronomy course at Western would not have happened without her," said Cockcroft, now an Assistant Professor of Physics and Astronomy at McMaster University.

"It's extremely exciting and ground breaking. We're just scratching the surface," Sasha said in 2019. "There are a lot of stories I never heard as a child, even learning my own language, because my grandparents weren't allowed to share that. Those stories are there; we just need to unbury them."

In 2020, Sasha was part of a research team led by Diana Lewis, Professor in the Department of Geography and Environment and the Indigenous Studies program. The project developed tools for the Impact Assessment Agency of Canada, to understand the impacts of development on Indigenous communities in Canada.

"Sasha brought knowledge of Indigenous ways of knowing and philosophies to the team," said Lewis. "She reminded us that to understand the impact of development on Indigenous peoples, you must understand their responsibilities and obligations to the air, land and water around them, made clear when she read the Haudenosaunee Thanksgiving Address to us."

Sasha shared her commitment and knowledge with her fellow classmates and with faculty, hoping to inspire and create a deeper connection and understanding of a traditional Indigenous perspective.

"Sasha was a daily visitor to ISC always greeting everyone, sharing exciting new things about classes or reading, encouraging other students to get involved and connect with culture," said Myers. "Her love of her culture and critical lens of learning is what drew people to working with her and loving her as friend, family and colleague."

"She was always willing contribute and would relate it to something in her personal experience," said Lewis. "It helped make the lessons really relevant to the other students."

"She has taught me so much: not just about the stars, but also about positivity and having constant compassion for others.  She has had a huge impact on my life - always sharing not only her knowledge and wisdom, but also her friendship, her warmth, and her love," said Cockcroft. "Even after I left Western and joined McMaster in 2020, Sasha and I carried on working together - jointly giving presentations on Indigenous astronomy and thinking about future projects.  My husband and I will miss her terribly but I know she'll still be guiding and looking out for all of us."

In 2019, speaking to Western News, Sasha recounted a story related to the Milky Way as 'the path'.

"There are so many stars that create a path to what we call 'the sky world.' It's kind of like Heaven," she said. "When babies are born, they come down this path of the Milky Way to Earth. When our people pass away, they travel back that same path to the sky world."

Western extends its condolences to the family of Sasha, the Oneida community, and wider circle of extended family, friends, classmates, and colleagues. Read more about Sasha's legacy and achievements on the Indigenous Student Centre home page; you may also leave a message with your thoughts, memories, or condolences for the family of Sasha on her Tribute Wall.  

Western reminds its campus community that counselling services are available to assist students, faculty and staff. Indigenous Student Centre staff are available through email at is.staff@uwo.ca.