Support from retired professor turned history student opens door to experiential learning in history
Support from retired professor turned history student opens door to experiential learning in history
March 15, 2021

Students in the Public History Minor at Western will have more hands-on learning opportunities, thanks to the support of a retired professor turned history student.
Mike Bartlett retired as a Civil and Environmental Engineering professor in 2019. Following his retirement, he enrolled in the Master's program in Public History.
As a graduate student, Bartlett had a paid research assistant position. Feeling the fund could be used to support local history, he made a $25,000 donation to establish the Betty Bartlett Public History Experiential Learning Fund for Local History.
The fund will support experiential learning opportunities for students in Public History that relate to local history.
"The real focus of the gift is on local history," said Bartlett. "I hope it will help students find opportunities in London or in their own hometowns, to work with local archives or historical societies, to learn about their roots."
The Department of History introduced the Master's in Public History in 1986, which is Canada's oldest such program, and the minor in public history was the first of its kind in Ontario when it was introduced in 2017. Since then others have started, and all include experiential learning components. While the Western program included experiential learning there were not funds available to support students in these experiences.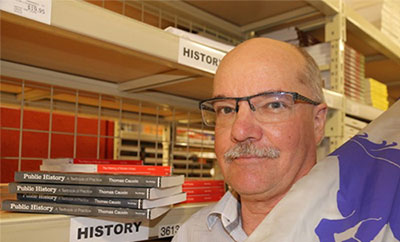 When Bartlett started the process of providing his gift, he was still a student in the program, and worked to maintain a level of anonymity in the donation process.
"I didn't want it to be public that I was a making a gift while also working to earn a degree" said Bartlett.
When the History Department was contacted about a possible gift in support of local history projects, the department saw it as a chance to develop hands-on learning in the minor. Instead of specifying a student award or a specific project, the funds are more open ended, and can benefit more students. Mike Dove, Director and Internship Coordinator, M.A. and Minor Programs in Public History said the funds could be used for student awards, to fund professional development opportunities or workshops, site visits, guest speaker series.
"The gift underlines that the work is valued, by Western, by our department and by the heritage organizations," said Dove. The gift will support future students, but he feels it is also a sign of support for the students who have already completed the program.
"Mike's contributions to our public history programs, first as a student in my undergraduate course 3813E, then as a graduate student in our MA Public History program, and now as an alumni, have been nothing short of remarkable," said Dove. "His wonderful passion for history and for doing history is equalled by the extraordinary care, support and guidance he has shown to his fellow students. We are truly honoured by his gift and excited to see it help inspire others to pursue public history here at Western and practice it in the community."
The fund was initially announced under a different name, but has been renamed to honour the memory of Bartlett's mother. Elizabeth 'Betty' Bartlett was a high school history teacher at Carleton High School in Richmond, ON. During her tenure, she developed full-semester local history courses in high school as a way to engage students in the subject matter. Mike Bartlett hopes the fund will inspire others to share her passion for local history and engagement.