Jason Gilliland receives Award for Scholarly Distinction in Geography
Jason Gilliland receives Award for Scholarly Distinction in Geography
June 20, 2022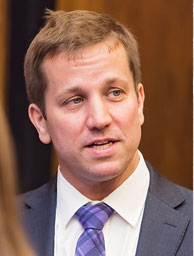 The Canadian Association of Geographers has awarded Jason Gilliland with the Award for Scholarly Distinction in Geography. The award recognizes a member of the CAG for outstanding scholarly work in geography either in the form of sustained contributions over many years or as a single major research contribution.
Gilliland is a Professor in the Department of Geography & Environment, with cross-appointments in the Department of Paediatrics, School of Health Studies, and Department of Epidemiology & Biostatistics. He is also Director of Western's Urban Development Program and a Scientist with the Children's Health Research Institute and Lawson Health Research Institute.
He applies geo-spatial analysis to questions of health and well-being, including researching how the physical environment and social environment influence health, as well as local economic development. His work has been cited more than 7,900 times, and he has an H-index of 46. Nearly two-thirds of the citations have been in the past 5 years, demonstrating a growing recognition of his work in these fields.
Gilliland is honoured to receive the award, especially at his current stage in his career. "If they had mentioned they were going to nominate me, I may have said, 'you should wait 10 years'," he said.
He is also Director of the Human Environments Analysis Laboratory (HEAL), a multi-disciplinary research and training centre at Western which develops and connects researchers to create, disseminate, and mobilize knowledge for making healthy, thriving communities. His work extends beyond the academic, and he is focused on community engaged research, and in skills development for graduate students. Gilliland noted that most of his publications involve graduate students as co-authors.
"This award is not a solo award," he said, "I think it recognizes all the work of HEAL."
Since 2003, HEAL has hired nearly 1,000 people – students at the graduate, undergraduate and high school level – to conduct research and learn, and has worked with close to 200 community organizations. HEAL, Gilliland said, has created something different than traditional labs, with a focus on community projects with impactful outputs.
Gilliland, and HEAL, are currently involved in a wide variety of projects focused on health and the environment, including 'Park Seek' a project looking at the accessibility and quality of parks across Canada, two projects focused on youth vaping, 'QuaranTEENing', a study of how COVID has impacted mental health among teens, and projects focused on food waste and food availability.
"Our work sometimes leads to academic publications, which are highly cited, and sometimes it builds connections with community members," he said. "I know my work is being used, making a difference in policies, programs and practices. That, to me, is the biggest impact, knowing that we are making community impact."