Bridging Indigenous Knowledge and Healthcare through Academia
Bridging Indigenous Knowledge and Healthcare through Academia
August 25, 2023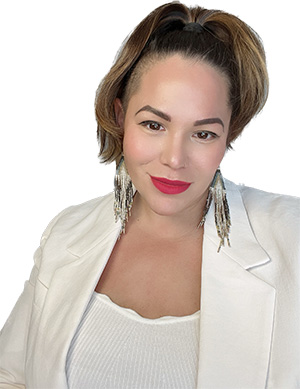 Vanessa Ambtman-Smith has joined Western as an assistant professor, appointed in the department of Geography & Environment, and the Indigenous Studies program. 
Ambtman-Smith (Niizhobinesiik, Thunderbird Clan, She/ Her), is of mixed Nêhiyaw-Métis ancestry and is from Treaty 6 Territory (Athabasca, AB). She is a PhD Candidate at Western University, within the Indigenous Health Lab, in the Department of Geography & Environment. She researches the impact of integrating traditional Indigenous practices into health care spaces.  
Her PhD research focused on hospital spaces, and in approaching the topic, she drew upon her own personal and professional experience.  
 "I'm someone who has spent two decades working in Indigenous health care. I'm applying what I learned out there, as a health leader," said Ambtman-Smith. "I'm also someone who has experienced some of the harms experienced by Indigenous people in hospitals." 
In her research, Ambtman-Smith works closely with Indigenous communities so they can play a role in defining research questions, to ensure she does not continue patterns of harmful research practices. 
"I see people who are being researched as part of a process of co-creation of knowledge. Through the relationship with the researched, it is not just an Indigenization of knowledge, but a de-colonization of research," she said. "Having that strong partnership with community will have better results. The research will be more relevant, more impactful, and the overall potential for harm decreases." 
Her next research project will involve working with patients at a mental health institution. She will interview them about their experiences using land-based medicine, and experiences with traditional healing spaces in the hospital.  
"Right now, people are scratching their heads on how to deal with the mental health crisis. A lot of the approach is focused on western medicine, or a bio-medicine approach," she said. "My research has shown that we are missing an element of care that looks at spiritual care and connections to the land as a source of mental health promotion. People aren't flourishing in these clinical environments. They need access to the world. They need a land base, a way to feel human in these sterile environments." 
She said building healing environments that draw on Indigenous knowledge systems can help in health journeys. Improving health care and healing spaces are also important ways to support reconciliation. 
Building on a past of advocacy 
Before beginning her path to complete her PhD, Ambtman-Smith spent two decades advancing Indigenous health at the health-system level, working in communities and visiting hospitals across Ontario. As an Indigenous scholar, she has focused on building strong relationships with local Indigenous communities. 
She believes she can bring a unique perspective for students; a graduate student at Western, she worked with graduate and undergraduate students as part of the Indigenous Health Lab.  
"I believe that who I am and how I approach research matters," said Ambtman-Smith. "I think that's a compelling part of why I took this appointment and why I am located in Geography & Environment, and Indigenous Studies. I am committed to both of these areas." 
Through these experiences, she wants to help make significant and immediate change. 
"My goal in life is to improve the reality of Indigenous people. The current conditions need to be improved," she said. "People shouldn't be facing exclusion, racism and even preventable death in hospital. I don't want to see my own children have to fight for their human rights in hospital. My ultimate goal is to see that change in my lifetime." 
A change in the academy 
As a student, Ambtman-Smith has seen significant change at Western to support reconciliation as well, including the launch of the Office of Indigenous Initiatives, the appointment of a Vice-Provost & Associate Vice-President (Indigenous Initiatives), and support for Indigenous scholars and communities. 
She will be one of four Indigenous faculty members in the department of Geography & Environment, which she said will make it the largest cluster of Indigenous scholars in the discipline in Canada.  
"I see the change in the Indigenization efforts in Western in the short time I've been there. That makes me hopeful that this will be a good place to put energy and time in to," she said. "I have felt that support. I've had terrific support, and there are people like Dr. Chantelle Richmond leading the way, making the space, and creating opportunities for students like me to be successful." 
Ambtman-Smith hopes to be able to build on those efforts and be a mentor for other students. As she holds a joint-appointment with Indigenous Studies, she wants to see that program grow, and is excited to be part of that growth.  
She is also developing undergraduate courses focusing on Indigenous health in health care environments, to help shift the perspectives of students. The courses will examine the history and current situation of Indigenous health in health care settings, including examples of how traditional knowledge has been used to build better systems and support better health outcomes. 
"It's compelling to see that we can offer solutions for Indigenous people to address some of the complex problems," she said. "I suspect that these are practices that the rest of the population can pick up on. There is something to be said for re-establishing connection to land and traditional spaces, it's a big missing piece for health care."