Encouraging interdisciplinary approach to the complex challenges created by climate change
Encouraging interdisciplinary approach to the complex challenges created by climate change
April 18, 2023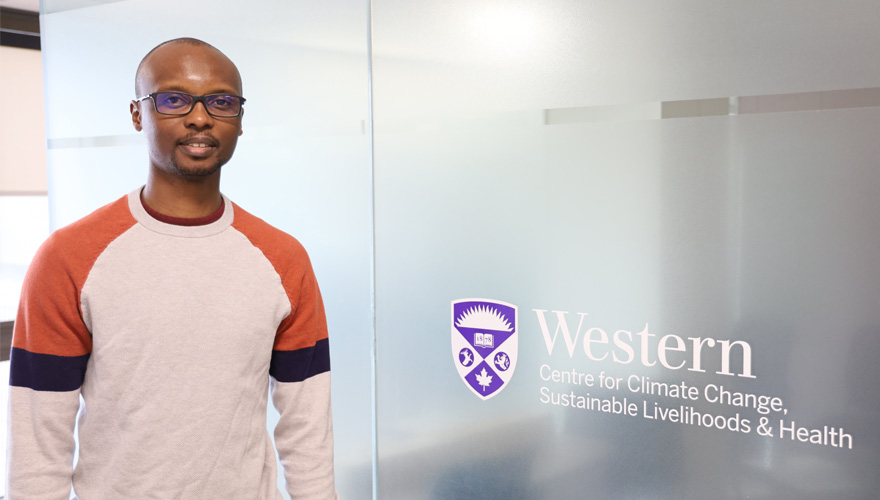 Dr. Eric Dusenge completed his PhD in Biology at Western and is a Postdoctoral Associate with WeCLISH

Story and photo by Rob Rombouts
The problems associated with climate change are too complex for one person, or one discipline alone to address, said Isaac Luginaah.
Luginaah is co-director of the Western Centre for Climate Change, Sustainable Livelihoods and Health (WeCLISH). The centre, part of the Network for Economic and Social Trends (NEST), takes an interdisciplinary approach to studying climate change, how it is related to sustainable food systems, and the impacts this can have on the health of individuals and populations.
The interdisciplinary approach is crucial to the centre's work, said Luginaah. WeCLISH includes members from seven faculties across campus. Luginaah is a professor in the department of Geography and Environment, and his co-director, Saverio Stranges is professor and Chair of the Department of Epidemiology and Biostatistics within the Schulich School of Medicine & Dentistry. Other faculties represented include Arts & Humanities, Engineering, FIMS, Ivey Business School, and Science.
"Our research is not concerned with the individual aspects of climate change, as these are all interconnected. We examine things like the physical elements of climate change and how these impact other elements like food security," said Luginaah. "It is absolutely clear that climate change is real, with extreme weather events happening more frequently. Too much or too little rain spoils crops, and this leads to farm failures. These failures are linked directly to food and health, both physical and psychological health."
Dr. Eric Dusenge completed his PhD in Biology at Western and is a Postdoctoral Associate with the centre.  "Climate change impact that are far beyond any disciplinary field. As a Biologist, I can see climate change effects on forests, and food crops, and we have to keep working at understanding how environmental change would influence crop production in 'new environments'," he said.
In his own research, Dusenge is studying how different crops respond to climate change, and how agroecological practices can help different plants respond to climate stress. This work is aimed at helping smallholder farmers, particularly in less developed economies to maintain the nutritional quality in their crops and therefore food security.
Developing interdisciplinary approaches must start with graduate trainees, he said. To encourage this, WeCLISH is hosting a graduate student conference on May 31st. Students from all disciplines are invited to submit titles and abstracts on research on and area of climate change including adaption in four broad thematic areas: ecosystems, food security and livelihoods, health, and infrastructure systems.
"We want to bring together graduate students from across campus and across disciplines to get them to talk to each other, get them to share ideas, and open avenues for further collaboration," said Luginaah.
Students can submit the title and abstract of their presentations by Friday, May 12, to mdusenge@uwo.ca