Lars Stentoft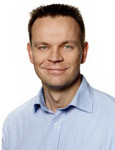 Canada Research Chair in Financial Econometrics
Tier 2 - January 2014 - January 2019
Social Sciences and Humanities

Office: SSC 4045
Phone: 519 661-2111 ext.85311
E-mail: Lars.Stentoft@uwo.ca
Website




New Tools to Increase Financial Stability
Improving the methods for modelling and pricing financial assets could decrease the likelihood of future market crashes. But, before this can happen, regulators need better tools to increase financial stability, and financial institutions need ways to quickly evaluate their risk exposures.

Dr. Lars Stentoft, Canada Research Chair in Financial Econometrics, wants to develop a flexible framework for modelling the returns of financial assets—one that can be used for risk management and option-pricing.

Stentoft's proposed, highly technical framework will have implications on how financial assets and derivatives are valued, how their risks are managed, and how financial policy is created and implemented. It will be of particular interest to academics, practitioners in the financial industry, policy-makers and regulators.

Stentoft's research will provide tools that speed financial innovations, improve market liquidity, and allow financial markets to price and bear risk more efficiently.
Source: Canada Research Chairs program, Government of Canada