Melvyn A. Goodale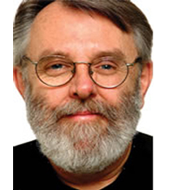 Canada Research Chair in Visual Neuroscience
Tier 1 -  January 2001, Renewed April 2015 - April 2022
Natural Sciences and Engineering

Office: SSC 6312
Phone: 519 661-2111 ext.82070
E-mail: mgoodale@uwo.ca
Website

The Eyes Have It – So Does the Brain
Sight is essential to the way most of us move around. And it could become just as essential for the way sophisticated robots will move around in the future. Before that can happen, however, we need a better understanding of how our brains deal with visual information. This understanding will provide the basis for designing new technology with visual capabilities, as well as refining the way we use vision to operate and interact with machines.
Melvyn Goodale has assembled compelling new evidence that supports this kind of improved understanding. He has shown how our brains make a major distinction between vision for observational purposes and vision for controlling skilled movements. His innovative model of visual processing demonstrates that each type of vision employs a distinct pathway in the brain.
As the holder of a Canada Research Chair, Goodale will continue this work in more detail. Using medical imaging equipment, he'll be looking for specific changes in the brain caused by these different types of vision-related activities. In addition to determining how the brain and eyes interact, the findings should lead to better diagnosis and treatment for people suffering from perceptual or visual motor ailments.
As part of this work, Goodale has already developed a computerized workbench where test subjects can manipulate objects in a virtual work space while their hand movements are tracked automatically. This research will shed new light on how the brain uses visual information to program and control skilled movements. Goodale and his colleagues have employed this approach to study prospective human-machine interfaces for the remote control of robots, as well as how remote sensors for such robots could be programmed.
Source: Canada Research Chairs program, Government of Canada