New Reading Room a Signature Space for Social Science Students
New Reading Room a Signature Space for Social Science Students
January 13, 2017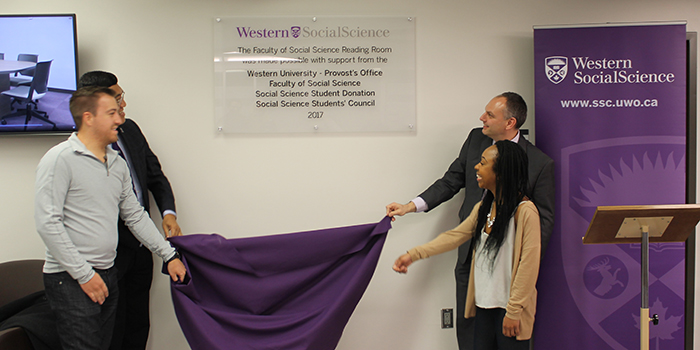 Former SSSC President Brandon Palin, Western University President Amit Chakma, Faculty of Social Science Dean Robert Andersen and current SSSC President Rebecca Amoah officially open the Faculty of Social Science Reading Room.
The Faculty of Social Science and the Social Science Students' Council have come together to provide students in the Social Science Centre with a new, quiet modern space to study and collaborate.
The Social Science Reading Room officially opened on Monday, January 16, with an opening ceremony. The Reading Room will be open to students from 7 am to 11 pm, with controlled access through the use of their student cards.
"This was a truly collaborative effort. The Dean's office, the Provost's office, and the Social Science Student Union all came together with the common goal of creating a beautiful space for our students," said Robert Andersen, Dean of the Faculty of Social Science.  "We are committed to creating innovative spaces that both enable students to realize their academic goals and improve the general Western experience."
To meet these goals, the Faculty has renovated SSC 1051, formerly home to the map library, to create the Faculty of Social Science Student Reading Room. The Student Reading Room will be a quiet study space consisting of soft seating areas study carrels and several partitioned study rooms for students to collaborate and complete group project work. All spaces are equipped with the latest technological capabilities.
The vision is that the Student Reading Room will become a signature space to build the Western student experience. The Social Science Students' Council has pledged $200,000 towards renovation of the space. The offices of the SSSC will be relocated to space in the new reading room.
Former SSSC President Brandon Palin said he promoted the idea as there was a distinct need for more student space. Palin felt the space would be a distinct and tangible representation of what money from the student donation fund can do for students.
Speaking at the event, Western University President Amit Chakma said the project was a great example of working together, and taking on leadership roles. He said Western is committed to building new student study space as a focus on the Western student experience, and this is a deliberate consideration whenever a building is renovated or built.
Along with the Reading Room, the Faculty has a focus to improve teaching areas, to encourage collaborative and interactive learning.
SSC 1004 has already had technology updates, and has been redesigned to allow students to learn in a traditional classroom configuration as well as work collaboratively and share media easily.  Primarily used for Geography classes, other Departments are able to book SSC 1004 as well.  Other teaching, research and common area redesigns are also planned.
Dan Shrubsole, Assistant Dean, Special Project in the Faculty, said Social Science has high aspirations for its space planning initiatives.  "As stated in the Campus Master Plan, we recognize the need for our spaces to be flexible enough to accommodate current and future research, learning and technological innovations. They must also be accessible to all users.  Contemporary learning at leading universities is fostered in rooms that promote a sense of place and interactions among people.  We hope to effectively and efficiently achieve these two goals in our renovations within the Faculty of Social Science Building."
Read more information about the Faculty of Social Science Reading Room.